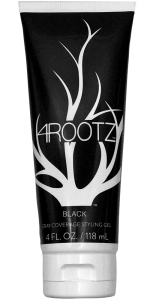 4Rootz™ superior formula is alcohol-, paraben-, and wax-free, so it doesn't dry hair the way alcohol-based gels can, and it doesn't leave flakes. Long lasting in both color and holding power, it's also low commitment, perfect for everyday use. 4RootZ is easy to wash out with shampoo. A special blend of natural silicone and other soothing ingredients tames frizz, adds control, and promotes a healthy shine.
Non-drying, no flaking…just natural color, great hold, and healthy shine.
If you're a woman who feels tethered to the salon to touch up your color every few weeks, 4RootZ was made for you. Booking appointments months in advance, panicking before a last-minute event, or dreading travel and the untimely return of "gray while away," are things of the past.
The tube tucks easily into purse or suitcase. You are ready to completely cover grays any time of night or day at a moment's notice.
If you're a man who doesn't want permanent color but does occasionally feel the need to touch up, 4RootZ is ideal. The travel-ready packaging makes storage easy. A tube in the medicine cabinet, one in the gym bag, and one in the desk drawer means there's never a hair out of place and never a gray to be seen.
If you're anyone who wants superior hold, natural-looking color, and healthy-looking hair, 4RootZ™ is the answer.