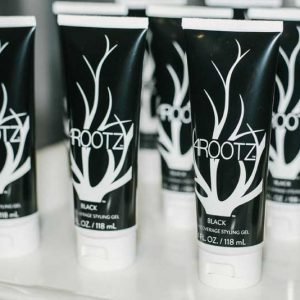 Are you interested in carrying 4RootZ in your salon? Take advantage of wholesale rates for selling retail.
Get in touch with us to learn more about wholesale rates on gray hair coloring gel 4RootZ
4RootZ Partnership Opportunities with Salon & Wholesale Hair Products
Do you feel like your clientele would find value in a hair coloring gel like 4RootZ? Our formula allows users to cover up their gray roots in between salon visits easier than ever before. The same way you apply your favorite styling gel, you can be applying sexy color to the roots of your hair to keep it looking good in between visits to the salon.
If you think this is something that your clients could find useful in between their visits to your business, get in touch with us now for wholesale and retail rates on 4RootZ. We are happy to talk business and help you get every bit of profit you deserve from distributing premium products at your place of business.
You won't feel like your selling anything when it is something that your clients love and come back for again and again. Not only that but a product that is going to help your clients look and feel their best. when they get compliments, they will have only you to thank and talk about to their friends and co-workers.
How to choose the right retail products for your salon
You should choose only to sell the products you believe are going to work and benefit the people using them. The idea of creating retail income with your salon is much easier when that is the case.
You should be giving your clients the opportunity to try some of the salon quality products that you are trying yourself. Think about who you serve and the things that they need on a daily basis. The things that you can try out for them while they are there at the salon and that they can come back to buy when they return.
The things you sell should be genuinely helping the people you service.
Do you style away the gray for patrons that come into your salon? most successful salons are doing this day in and day out. Helping their most valuable clients recapture youth with sexy dark, color-rich hair.
4RootZ allow you to provide your clients with an opportunity. they are going to be able to look better in between visits to your business. The value lies in helping them feel confident throughout their entire time away from the salon. Helping them to feel like their roots are growing in just a little bit slower.
y carrying 4rootz, you are helping people to do this. to look and feel better. That is the real value.
Salon hair products wholesale
When doing business with other businesses, especially in retail, the ability to buy products wholesale is extremely important. being able to cut down on the price at which you acquire your product will help you, in the long run, to bring in more profit. Buying products one by one just isn't a good strategy when it comes to retail.
4RootZ is available wholesale to select approved salons. We have many at home where we started in Staten Island and continue to expand outwards into different communities around New York City.
Our salon providers rave about the clients and how much they love 4RootZ in between salon visits for professional color. It allows them to take the salon home with them to some extent and cover up those gray roots that start to come in after a week or so
Salon retail partnership rates
If you are interested in receiving regular shipments of 4RootZ, you can upgrade from buying salon products wholesale and become a partner of the brand.
Thanks for reading!