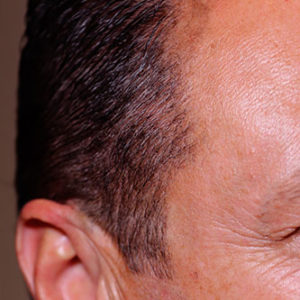 Here are a few new shots we made with the help of our photographer. It's a before and after photo gallery using the black color of 4RootZ.
The power of 4RootZ for re-coloring gray sideburns can be seen nicely with this before and after gallery
[ngg src="galleries" ids="1″ display="basic_thumbnail"]
Not too shabby, right? You can see that our guy's salt and pepper sideburns were changed from gray to black. It takes just seconds. Imagine gelling your hair. That's it.
Give your hands a quick was after you're finished, and you're done.
Here is another good example of someone using our black color to recolor some gray sideburns. In 2-3 minutes, you can see the grays disappear from view completely, covered in a thin layer of 4RootZ: Black.
[ngg src="galleries" ids="3″ display="basic_thumbnail"]
4RootZ comes in the full spectrum of hair colors and can be used to help with grays for any natural color style. These images focus mainly on the black color, but you can check out upcoming posts for more pictures relating to all different demographics and colors.
Looking to give it a try for yourself?
You can find all of the different colors we have available right here.
Until next time,
Thanks for reading,